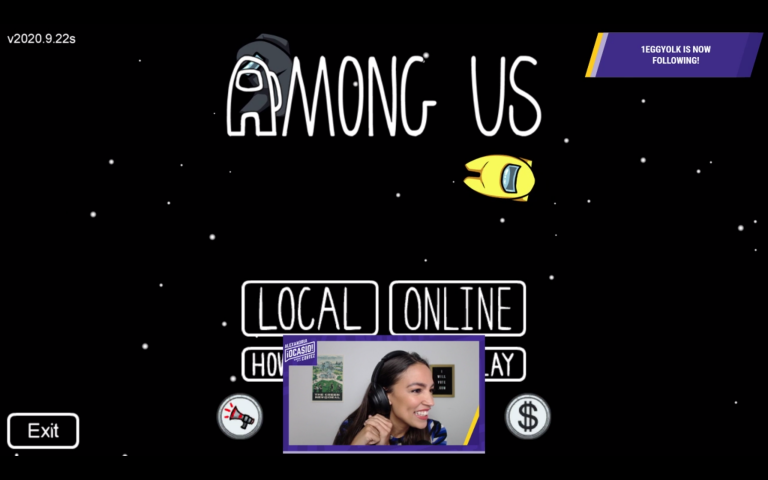 Hasan Piker, a vlogger who last year said "America deserved 9/11," organized an online live streaming event last night with Reps. Alexandria Ocasio-Cortez (D., N.Y.) and Ilhan Omar (D., Minn.) to energize young people to get out and vote. 
Ocasio-Cortez joined a group of gamers to play "Among Us," a popular new video game, and live streamed the event on Twitch to encourage viewers to make plans to go vote. At the beginning of the stream, Ocasio-Cortez announced an "amazing lineup" of gamers, including Piker, who "wrangled" the event together at the last minute.
Last year, Piker, a Twitch vlogger and former contributor to the left-leaning news and commentary group the Young Turks, attacked Rep. Dan Crenshaw (R., Texas)—a veteran who lost his right eye in 2012 while serving in Iraq—in a video and said "America deserved 9/11."
"This guy has the understanding of foreign policy of, like, a 12-year-old," Piker said. "What the f—. What the f— is wrong with this dude? Didn't he go to war and like literally lose his eye because some mujahideen—a brave f—ing soldier—f—ed his eye hole with their d—." 
"America deserved 9/11, dude. F— it, I'm saying it," Piker said later in the video. 
Piker later clarified his statement after facing criticism and said he meant America, not the American people, deserved 9/11. Twitch suspended Piker for his comments last year.
Piker isn't the only gamer who has made controversial comments about the 9/11 terrorist attacks. Omar chalked up the attack to "some people" who "did something" at an event for American and Islamic relations in 2019. Ocasio-Cortez later defended Omar's comments.
The post Ocasio-Cortez Teams Up With Activist Who Said 'America Deserved 9/11' appeared first on Washington Free Beacon.