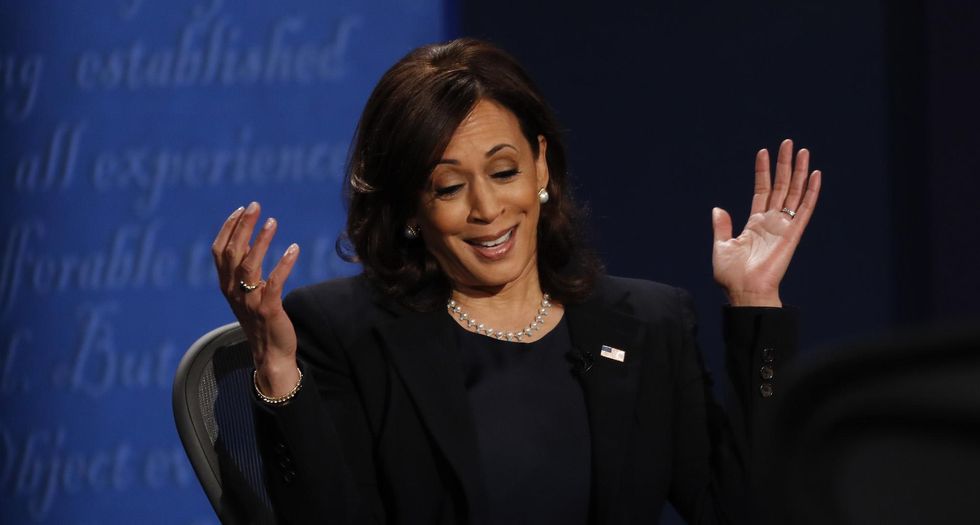 On Jan. 21, his first full day in office, President Joe Biden declared to the country that he was implementing a national plan to take on the coronavirus pandemic. His plan included an emphasis on listening to the experts like Dr. Anthony Fauci, the country's top infectious disease expert and Biden's chief medical adviser.
"Above all, our plan is to restore public trust," Biden said that day, USA Today reported. "That's why you're going to be hearing a lot more from Dr. Fauci, not from the president, but from the real genuine experts and scientists."
Based on her statements in a recent interview with Axios in which she directly contradicted a point Dr. Fauci made about vaccine distribution, it appears that Vice President Kamala Harris did not get the memo.
And that inconvenient fact did not appear to sit well with the powers that be at Axios, as evidenced by the outlet's decision to delete a tweet that pointed out the contradiction.
What did Fauci and Harris say?
The same day Biden declared he was going to trust the experts, his administration was also claiming the Trump administration had a "nonexistent" vaccine distribution plan. One anonymous source told CNN that the new administration was "going to have to build everything from scratch."
But it turned out that claim wasn't true — a fact Fauci noted that very day.
Pointing out that the government was already distributing vaccines and that about 1 million shots were already being given daily, Dr. Fauci told reporters, "We're certainly not starting from scratch, because there is activity going on in the distribution."
"I mean we're coming in with fresh ideas, but also some ideas with ... the previous administration. You can't say it was absolutely not usable at all," Fauci said.
Fast forward to last Sunday when Vice President Harris was on "Axios on HBO" repeating the Fauci-debunked claim that the administration was starting from scratch with vaccine distribution.
"There was no national strategy or plan for vaccinations," she claimed. "We were leaving it to the states and local leaders to try and figure it out."
And then, she repeated the lie that Fauci had shot down weeks earlier.
"In many ways, we are starting from scratch on something that's been raging for almost an entire year," Harris alleged.
Even left-leaning PolitiFact called out Harris' fib, tweeting, "@VP told @mikeallen that 'there was no national strategy or plan for vaccinations' and that Biden admin was 'starting from scratch.' That's wrong. The Trump admin had a plan to distribute to locations chosen by states and let them take it from there."
.@VP told @mikeallen that "there was no national strategy or plan for vaccinations" and that Biden admin was "start…

https://t.co/SwgSys54Re

— PolitiFact (@PolitiFact)1613413800.0
What did Axios do?

When Axios first posted the relevant clip from the interview on Twitter, the outlet pointed out that Harris contradicted Fauci.
The original tweet said, "@VP Harris to @mikeallen: 'There was no national strategy or plan for [COVID-19] vaccinations. ... We're starting from scratch.' At a press conference last month, Fauci said 'we certainly are not starting from scratch' on vaccine distribution."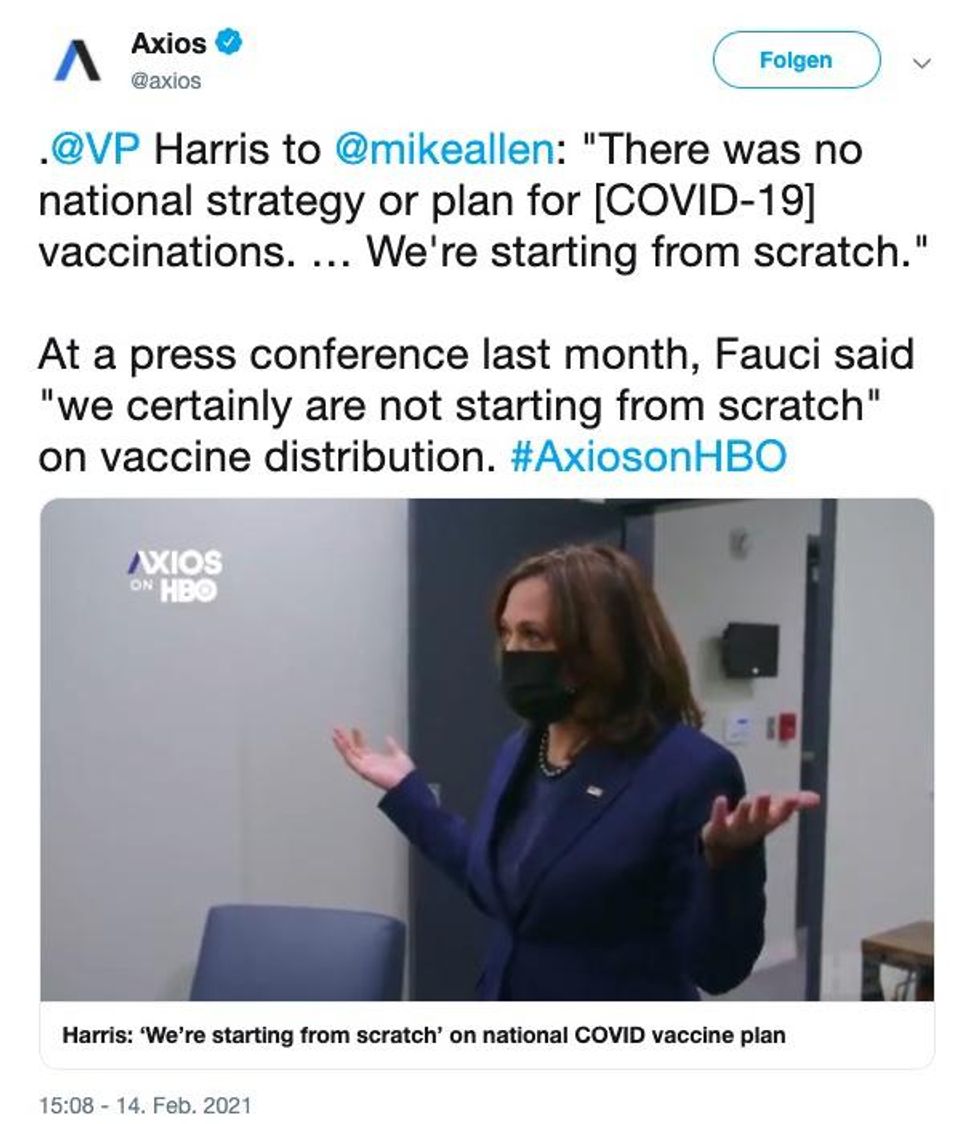 Image source: Twitter/@axios screenshot via web.archive.org
Axios deleted that tweet and replaced it with the tweet with the video clip embedded above that included no allusion at all to the Fauci contradiction.
Both Fox News and National Review reported that Axios did not return requests for comment on why the tweet was deleted.
This move by Axios to delete a tweet unfavorable to the vice president came on the heels of a previously unreported romantic relationship between now-former Biden deputy press secretary TJ Ducklo and Axios reporter Alexi McCammond, who covered Biden and was reassigned to cover Harris when the relationship was exposed.
Ducklo was shamed into resigning from the White House after Vanity Fair reported that he had threatened a Politico reporter who was digging into the then-secret relationship.